DSL Manager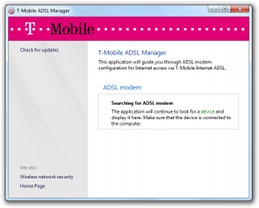 DSL Manager automates configuration of DSL routers including their embedded wireless interface. Its usage is simple and identical for all supported devices. It consists of the following steps:
Check if computer and local network are configured properly
Change computer network configuration if necessary
Detect any supported DSL router and show its status
Reconfigure the router according to predefined settings including:

DSL and ATM
IP, NAT and firewall
Remote access security
Wireless network name and key – the user is prompted for these parameters
Wireless interface (SSID, encryption, ...)

Transfer the wireless interface settings on a USB flash drive
With DSL Manager, the router is properly configured and secured from both WAN and WLAN. DSL Manager also displays DSL router status and lets the user turn its wireless interface on and off.
Business drivers
Save on your customer support costs. Let your customers configure their DSL equipment securely to prevent DSL service misuse, attacks from the Internet, and wireless interface misuse.
Features
Multilingual user interface
Wireless interface control (on/off)
DSL line monitoring (state, speed, etc.)
Transfer wireless interface configuration on a USB flash drive
Multiple VPI/VCI profiles for triple play VLAN or port mapping
Export configuration for future reference
Automatic update over the Internet
Supported operating systems
Microsoft Windows 11
Microsoft Windows 10
Microsoft Windows 8.1
Microsoft Windows 7 (including 32bit version)
DSL Manager is available as an installation package or as a standalone executable. Administrative rights are not required to run DSL Manager.
Supported devices
Any DSL router with HTTP configuration interface (e.g. Zyxel, Huawei)
Any DSL router with telnet configuration interface (e.g. Netgear, Broadcom, Xavi)
References
Back to product overview