Wi-Fi Connection Explorer
Wi-Fi Connection Explorer is a Wireless LAN/Wi-Fi connection manager for wireless network operators. It automates all steps required for successful setup of Internet connection via Wireless LAN including advanced authentication methods.
Wi-Fi Connection Explorer features additional functions such as hotspot search and roaming support to create the best user experience and maximize customer satisfaction with the service.
Wi-Fi Connection Explorer is available for Microsoft Windows and Mac OS X.
Business drivers
Wi-Fi services are nowadays widely available to inexperienced users. Providing a Wi-Fi service to the mass market has the following obstacles:
Only experienced users are able to set up a Wi-Fi connection manually.
Hotspot landing pages are confusing and differ across the service providers.
Individual customer support is too expensive.
End users are reluctant to use the service as manual hotspot authentication is time consuming.
Wi-Fi Connection Explorer solves all the above issues and so it brings additional revenue by extending the customer base. It allows savings on customer support and increases customer loyalty. It also provides additional brand visibility as the software is customizable for specific service provider brand.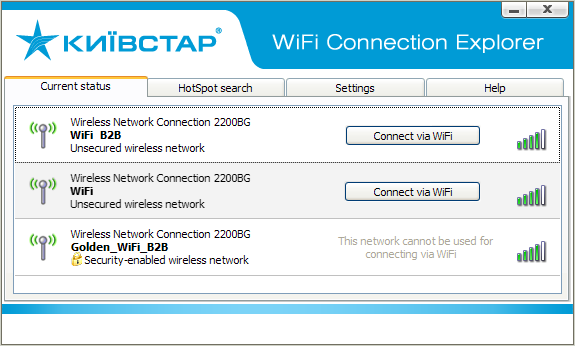 Highlights
User friendly
Wide branding options
Small size for quick download
Multilingual user interface
On-line updates
Hotspot search
Online or offline active help
Supported operating systems
Windows 2000 with Service Pack 4
Windows XP (including 64bit version)
Windows Vista (including 64bit version)
Windows 7 (including 64bit version)
Mac OS X 10.5 (Leopard)
Max OS X 10.6 (Snow Leopard)
Compatibility
All standard hardware supported

Microsoft Windows NDIS / WZCSVC / WLAN API configuration
Mac OS X embedded WLAN adapters

Supported authentication methods

HTTP and HTTPS - form based, clear text (GET/POST)
WISPr - Wi-Fi Alliance standard for Wireless Internet Service Provider roaming
Smart card (e.g. EAPOL, EAP-SIM - with any smart card reader or data card)
Weroam - Comfone AG (including SIM based roaming)
Any additional authentication method may be implemented on request
Features
Wi-Fi roaming
Hotspot search
Automatic updates (application and hotspot database)
Mobile Internet via cellular network (integration with Mobile Connection Explorer)
References
Back to product overview