Rich features and connectivity capabilities
Rich features and connectivity capabilities
SMS, MMS, and E-Mail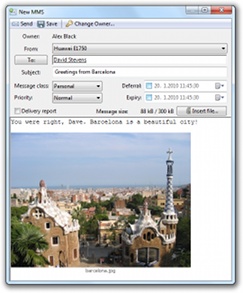 Compose SMS messages with international characters or MMS messages and e‑mail with pictures, sound, and attachments.
Long SMS messages are split, sent, and concatenated in the recipient's phone automatically.
To reduce costs, substitute international characters in SMS with their GSM alphabet equivalents.
Request delivery report, specify importance and expiration, or defer sending.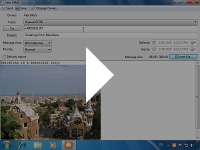 Watch this demo about how to send SMS, MMS, and e‑mail. (running time 2 minutes)
Search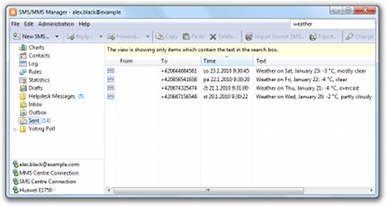 Filter messages, contacts, and other items by entering text in the search box in the upper right corner of the client application.
When a view is filtered, it is indicated with a yellow information bar.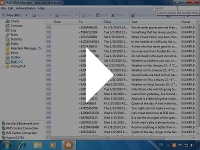 This video demonstrates searching in a message folder. (running time 21 seconds)
Connectivity
Nearly all mobile devices are supported, including brands like Alcatel, Huawei, LG, Motorola, Nokia, Option, Sagem, Samsung, Siemens, Sony Ericsson, or ZTE

(*)

. Mobile phones and data cards are automatically detected.
Connect a mobile phone or data card, or connect directly to the mobile network operator's SMS and MMS Centres.
SMS/MMS Manager supports the EMI and MM7 protocols for direct communication with the network operator's servers.
MM1 protocol is supported for sending and receiving MMS using mobile devices.
The standard SMTP and POP3 protocols are also supported to enable e‑mail communication.
* Compatible phone must support the minimum required subset of ETSI TS 100 916 and ETSI TS 100 585.
Charts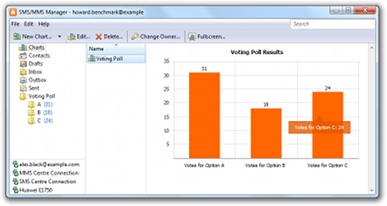 View or present real-time message analysis on graphical charts.
By defining rules that separate messages into folders, the charts will display the ratio of messages which correspond to the specified criteria.
For example, when running an SMS voting poll, the intermediate and final results of the poll can be presented on a bar chart.
Statistics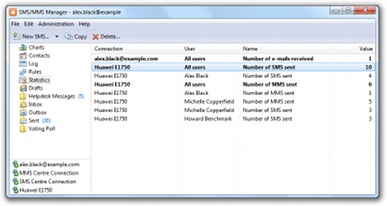 Statistics provide an overview of the number of messages that passed through the server, sent or received.
Analyze per-connection and per-user numbers, so that connection costs can be optimized and regulated.
HTTP Interface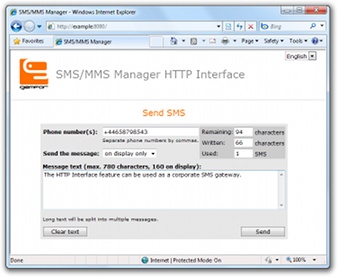 Enable the HTTP Interface feature in SMS/MMS Manager and start sending messages from your web browser.
The web form is customizable, so each customer can have their own, branded with company logo and colors.
As an added benefit, the HTTP Interface feature can be used to programmatically send SMS messages from third party software or in-house tools.
Import and Export Data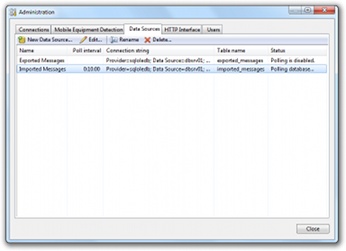 Integrate other systems with SMS/MMS Manager by writing data to an SQL table. SMS/MMS Manager will pull this data from the database and trigger preconfigured rules while passing the fetched data as a parameter.
When a message arrives, use rules to export it to an SQL table.
Export data from other events as well.